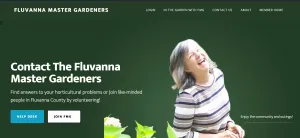 The Fluvanna Master Gardeners work with the community to encourage and promote environmentally sound horticulture practices through sustainable landscape management educational Programs.
The Fluvanna Master Gardener website was built using the Genesis Framework on WordPress. The site was configured with the S2Member plugin to protect member-only content.
There are three unique requirements associated with this implementation:
Timesheet for volunteer hours – Provide an interface for the volunteers to enter time expended on projects into a timesheet.
Helpdesk commitments – Provide an interface for the volunteer to commit to days working the helpdesk. This script also sends an email reminder to the volunteer the Sunday before their scheduled day on the helpdesk.
Easy to use charts – Provide a graphical means to measure the year over year donations to the local food bank through the Plant A Row For The Hungry Program. A custom plugin was created for the site using the Google Chart API.
---