Task Automation is the process by which you identify a task that can be performed automatically without constant human intervention.
Automating redundant and tedious tasks is critical for small businesses where the staff is limited to you and maybe a handful of other people.

A simple example of task automation
Let's take this very common issue – every couple of hours you scan and sort your inbox using the following criteria:
Orders are printed for fulfillment
Analytic reports are marked for follow-up to read later
Expenses are printed for recording into your accounting software
A terrific way to automate this particular process would be through the creation of filters in your email software.
If you have never created a filter in your email software, please review these links for instructions –
Creating filters in Gmail – https://support.google.com/mail/answer/6579?hl=en
Creating filters in Outlook – https://support.office.com/en-us/article/Manage-email-messages-by-using-rules-c24f5dea-9465-4df4-ad17-a50704d66c59
If you are using WooCommerce to sell your products online, you could create a filter that tags all new email with the phrase "New customer order" in the subject line as "To Fulfill." The filter is then directed to forward these sales emails to your staff person to pack and ship.
The second item can be addressed by creating a second filter that searches your new mail for the words "Google Analytics: " and tags these emails for follow up.
The last filter can search your new emails for the text "Transaction Receipt" or "Receipt for your transaction" and tag those items "Business Expenses" so that you can easily group them and record them in your accounting software.
At the end of the day, review your inbox and see if the filters picked up all your sales, expenses and analytic notifications. If not, refine the filters and review again at the end of the next day. At the end of the month, you may be surprised how much time you saved putting these filters in place.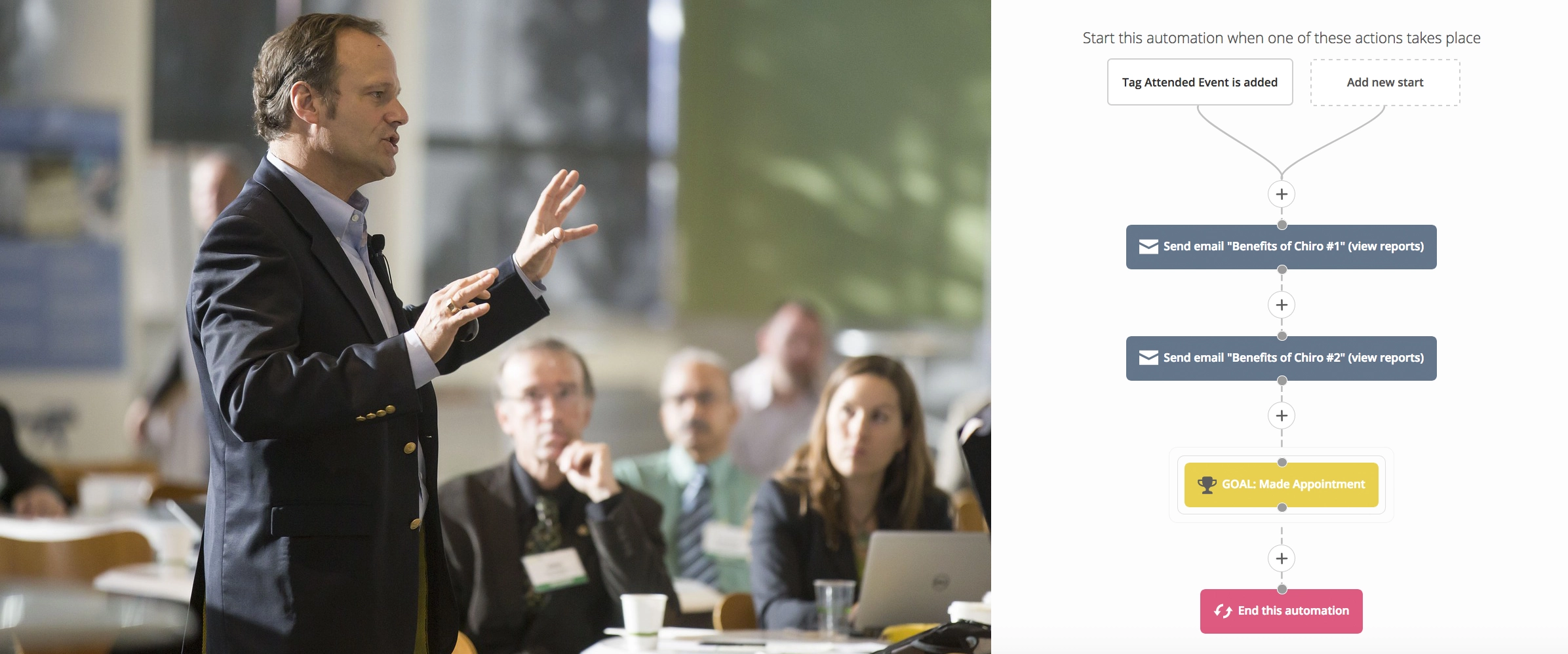 A more complex example of automating a task or process
In this task automation example will use Google Forms, Zapier and an email marketing software, such as ActiveCampaign, MailChimp or Infusionsoft, that include automation tools that make it possible to automatically launch email campaigns based on specified criteria.
We'll suppose that you are a chiropractor conducting a presentation in your office where you plan to serve a buffet lunch. You want to advertise in the local papers and invite prospects to visit a form on your website to register for the event.
Ultimately, you want to bring in new patients. While some may be willing to make an appointment for a consultation the day of your presentation, others may need more time to make the decision.
You want to prepare your email campaigns for either situation. If you have not done so already, you should prepare a New Patient email series. This series of emails should orient the new patient to you, the office and your practice. The second email series, we'll call the Benefits of Chiropractic, will slowly introduce new contacts to chiropractic and its benefits, along with some patient testimonials, all focused on growing your clientele.
Now, here is the fun part.
Step 1: Create a Google Form to collect the information needed. The form includes name, address, phone number and email address along with food preference, i.e. vegetarian, gluten-free or no preference.
The form could look something like – https://goo.gl/vNGpEm
Using Google Forms to create your event registration form allows you to easily convert the responses into a spreadsheet. Use this spreadsheet to tally the number of people attending the event and also determine the percentage of dietary restrictions for ordering/shopping purposes.
Your staff will use this same spreadsheet during the check-in process as people arrive at your office the day of the event.
Step 2: Create an automation in ActiveCampaign to track your event registrants. There will be four parts to this automation.
All registrants get tagged "Lead – Registered For In-office Event."
All registrants get an event registration confirmation email.
All registrants get a reminder of the event 2 days prior.
All actual attendees get an email requesting feedback of the event.
Step 3: Create a Zap to feed the data from Google Forms to ActiveCampaign.
Zapier has a template for you to follow to create this Zap at https://zapier.com/app/editor/template/11019
If you are using MailChimp, please see this template – https://zapier.com/app/editor/template/11009
If you are using Infusionsoft, please see this Zap template – https://zapier.com/app/editor/template/11059
Day of the event activities
Make a copy of the spreadsheet (generated in Step 1) of people registered for the event. Add two columns – one column to denote the people that actually attend and the other column to record whether the person made an appointment to see the chiropractor after the presentation.
Day after the event activities
Log into ActiveCampaign and mark the people who attended the event and made an appointment so that they will begin getting your New Patient email series. Mark the people who did not make an appointment so that they will begin to get your Benefits of Chiropractic email series.
Measuring the success of the event
To determine the success or failure of the process, you must have some sort of metric. The following metrics are a simple baseline:
Percentage of no shows = # of people who did not show / # of people registered.
 Percentage of attendees that become patients = # of people making appointments / # of people registered who attended.
Cost per new patient acquisition = (the total cost of advertising + cost of staff to facilitate the event + cost of food, paper plates, eating utensils, etc) / # of leads making first appointment after event.
For example, 100 people registered and attended your event. It cost $150 for the ad in the local paper. The food and supplies cost $1,200. You paid your staff $230 in overtime. Nine (9) people made appointments the very night of the event and six (6) people made appointments within the next two weeks after the event who received your Benefits of Chiropractic email series.
Cost per new patient acquisition = ($150 + 1,200 + 230) / (9 + 6) = $105.33.
Conclusion
The event described above can be adapted to any sort of business presentation where your aim is to drive more customers or patients to your business.
It is prudent to review the numbers and determine whether it was successful or not. If it was not successful, was it because the presentation did not appropriately target your audience? Could the content be reworked and tried again? Review the feedback from your attendees and see what they liked and disliked. Can changes be made to make a future event more successful?
The beauty is that the forms and email series are in place now and the entire process can be repeated, while tweaking steps to constantly improve the process.
Our Automation Experience
We have automated processes using ActiveCampaign, Infusionsoft and MailChimp. But our our experience is not limited to the automation tools found in these software packages. We have also integrated disparate systems using APIs.
Contact us, we'll find a way to make your life easier.