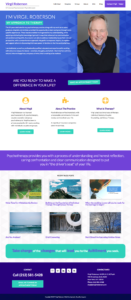 Virgil Roberson is a licensed psychoanalyst (L.P.), psychotherapist, couples counselor and group psychotherapist. Virgil has been in private practice for 25+ years, working with individuals, couples and groups.
The issues he addresses include relationships, work difficulties, addictions, co-dependency, anxiety and depression. For more about Virgil Roberson's Psychotherapy Specialties, click here.
Virgil Roberson's website uses WordPress built upon the Genesis Framework.
Project: Responsive website
Client: Virgil Roberson
Description: Clean upbeat design. A responsive layout means it works well on a desktop, tablet or mobile device.
Technology: WordPress